HOLE PUNCHING MACHINE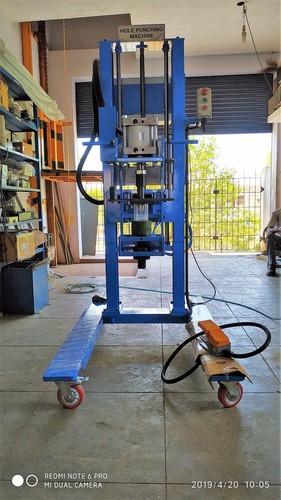 HOLE PUNCHING MACHINE
Product Description
HOLE PUNCHING MACHINE is a Mechanical Machine designed for the purpose of making holes in the Expansion Joint Fabric.
We have provided with two different regulators for maintain different pressure for the punching tool and the safety guard provided with it.
K-PAS Hole Punching Machine is a Machine Integrated with Both Electrical as well as Pneumatic Components to give Accurate Results and Timely Process.
The Hole Punching Machine can be Operated in 2 Positions
Horizontal
Vertical, whose positions can be changed by Removing the Two Allen Screw on either sides of the Machine.
The Pressure applied to the Punching Tool is 7 Bar Max and to be constantly provided for continuous running of the Hole Punching Machine.
The Pressure applied to the Safety Guard(Acrylic Cover) is 2 Bar Max and to be also provided constantly.
Technical Specifications
| | |
| --- | --- |
| Guard Pressure | 2 BAR |
| Punch Pressure | 7 BAR |
| Precision | PLC USED |
| Input Voltage | 230V AC, 50HZ |